Okay I'm joining the fun ya'll. Peas & Crayons started this trend called What I Ate Wednesday. I usually only post one recipe at a time but here is my day pretty much laid out. WIAW madness ensues!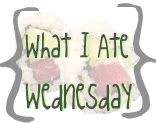 Breakfast: Veggie Juice. Beets, Apple, Carrot, Ginger and Pear –sprinkled with cinnamon and nutmeg. Mmmmm!
The nutmeg and cinnamon added a wonderful flavor to this already slightly sweet juice. I could literally drink this every day.
Plus, the beet juice mustache makes it that much more fun ;)
Snack: Larabar and an orange
Lunch: Quinoa with sauteed black-eyed peas and swiss chard, topped with toasted pepitas
This lunch was absolutely delicious. I'll post the recipe for the black-eyed peas later this week. I also had green juice again later that day. Lots of green alkalizing veggies for me this week!
Dinner was grilled veggies, including eggplant, broccoli, red pepper, portabello mushrooms along with grilled leeks and baby bokchoy. I drizzled the veggies with a little extra virgin olive oil and sprinkled them with dried herbs and red pepper flake. Sooo delish! :) Served alongside some quinoa and toasted pepitas. I also had a raw green salad with a light vinaigrette and almond milk.
And let's not forget what I made earlier in the afternoon and snacked on throughout the day… Some delicious raw vegan Samoas Fudge Babies, recipe by Chocolate Covered Katie :)
I also drank lots of home brewed iced mint green tea throughout the day.
That wraps up Day 4 of the Crazy Sexy Diet! So far I'm feeling awesome. In reality I haven't changed much about the way I eat except I've cut out gluten, alcohol and sugar (except for small amounts of natural sugars) to give my digestive system a bit of a break. That's why they call it a cleanse… smooooth sailing ;)