Hey guys! Come check out my guest post on Frosting for the Cause, along with a yummy recipe for vegan cherry and maple cookies! October is breast cancer awareness month and there isn't a more perfect time to acknowledge the hundreds of thousands of people around the world suffering from this terrible disease.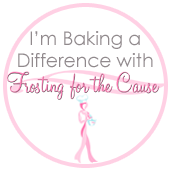 Part of my agreement with Frosting for the Cause is that I'll be donating these cookies to a local cancer hospice. This first batch disappeared quickly in my house so I'll be making 4 dozen of these delicious cookies this week and taking them to a local hospice for terminally ill patients. This is a small thing that almost anybody can do to show you care. Call the hospice ahead of time and make sure they will accept your baked goods; (the hospice I'll be going to requested I not bring anything with peanuts) so I used pumpkin seeds instead!  
Of course there are also tons of races and marathons you can be a part of to support breast cancer awareness and help raise funds for research. The Susan G. Komen foundation hosts Race for A Cure around the country, so check out their website here to find a race near you. This month is also the perfect time to wear a pink ribbon or shirt to support awareness. One of my favorite companies, Save the Ta-Tas, makes super cute shirts and other clothing with their message. They also donate a good portion of their profits to breast cancer research, so check them out!