Welcome to my WIAW :) vacation style!!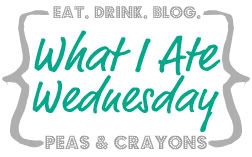 I woke up this morning and my body was craving a green smoothie. So I indulged, and loved every minute of it! I've even turned my dad onto green smoothies these days. It's safe to say he is hooked!
Ingredients: 2 c. fresh spinach, 1 c. kale, 1/2 c. cantaloupe, 1/4 c. chopped pineapple, 1 c. almond milk, 2 frozen bananas, 2 tbs. flax seed oil, 1/2 c fresh strawberries. Mix on high and enjoy! This breakfast is packed full of vitamins and nutrients and will leave you feeling full and satisfied. :)
This week we've pretty much had Mexican food around the clock. Not that I'm complaining, mind you. I love a good homemade salsa or guacamole, some refried beans and rice, with toppings galore… and don't even get me started on a delicious homemade batch of margaritas… to die for. Seriously. Despite the overflowing amount of spicy and delicious Mexican and latino cuisine that has been engulfing our kitchen this week,
I can not seem to get enough salsa!
Maybe it's one of those foods that once you get a wee little taste of it, you just seem to want more! And
more salsa
is all I thought about all day long, until I found myself in the kitchen with a few odds and ends of leftovers and attempting to whip up another batch. But not just any salsa… although my Aunt Barb's salsa will send you to your knees… I whipped up a sweet and savory
black bean and pineapple salsa.
To
 the delight of my own palate, as well as family members, it was a delicious success. Try this salsa. It's freakin' amazing. 'Nuff said.
Black Bean & Pineapple Salsa
2 lg. ripened tomatoes, diced
1/4 c. sweet onion, chopped
1/2 can black beans, drained and rinsed
1/4 c. diced pineapple (fresh or canned)
2 tbs. freshly chopped cilantro
1 tbs. freshly chopped basil
2 tbs. pickled (or fresh) jalepeno, chopped
1 tbs. freshly squeezed lime juice
1/2 tsp cumin
1/2 tsp garlic powder
pinch of red pepper flakes
salt and pepper to taste
*Print this recipe
1. Wash, prep and chop veggies.
2. Combine veggies with spices and remaining ingredients. Stir to combine and refrigerate for 30 min or more.
3. Serve with tortilla chips or veggies, or use as a topping for tacos, burritos or fajitas. Enjoy!
I snacked on salsa throughout the day. There is something about a relaxing vacation that makes snacking so much more appealing :) When happy hour came around I added a nice glass of chardonnay and enjoyed it on the deck with family. Then came a huge salad beast for dinner! Spinach topped with wild rice, chic peas, cucumber and tomato, avocado slices and salsa. So delish!
Followed by a lil leftover strawberry rhubarb cobbler for dessert!
And some nighttime singing around the campfire…
Happy WIAW everybody!