I love curry. There is something about the slightly sweet and yet spicy combination in curry dishes that just tickles my palate. There are so many different types of curry, that the possibilities for cooking with curry are endless! I have just started exploring curry more recently. Believe it or not, I used to think I was allergic to the stuff! When I was a kid I always had a swollen and scratchy throat when I ate my mom's chicken curry dish. But somewhere in early adulthood I tried curry again and it hasn't bothered me since. Thank goodness, because I've definitely fallen in love!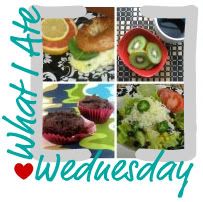 Time for another WIAW hosted by the fabulous Jenn @ Peas and Crayons! Happy link party bloggers! :)
Coconut Curry Stir Fry
1 c. brown rice (cooked)
1/2 c. chopped carrots
2 c. sliced green beans
1 c. broccoli florets
1 red bell pepper, sliced
1 – 6 oz. can bamboo shoots
1 – 8 oz. can coconut milk
1 tbs. coconut oil
2 tbs. curry powder (or curry paste, whichever kind you choose!)
1 tbs. tumeric
1 tsp. cumin
1 tsp. ground ginger
1/2 tsp red pepper flakes
2 tbs. minced garlic
1 tbs. cornstarch
*Print this recipe
1. Combine curry and spices in a small mixing bowl and set aside.
2. Heat large skillet or wok on med/high heat. Add coconut oil and chopped veggies. Stir fry until veggies start to soften, for about 10 min.
3. Add spices and coconut milk. Stir fry until sauce starts to thicken and veggies are fully cooked. Add bamboo shoot and cook for anther 5 minutes.
4. Add cornstarch to thicken the sauce. Reduce heat to low and stir.
Serve over brown rice and Enjoy!
Yummm, I love coconut milk! I'm keeping this post short and sweet, so happy WIAW everyone! Don't forget to enter my Tervis Tumbler and Lindsay-Phillips summer sandals giveaway!