Time for another fabulous link party hosted by Jenn over @ Peas and Crayons. :)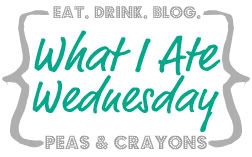 This week has been jammed pack full of vacation shenanigans but I've still had lots of yummy eats. Yes, some have been healthier than others (like all of the onion rings and bloody marys I stuffed myself with on Monday. Oyy!), but I am on vacation so I try to enjoy! But as I mentioned earlier, there are still some good ways to stay on track with healthy eating while you are on vacay. One of the best things for me is to cook for myself and not go out to eat every day. Not only does it add up quickly in terms of dollars, but also the sugar, sodium and extra fat in restaurant food can be a lot more than you'd imagine. But I have a huge kitchen to cook in here, so why not take advantage?!
My dad's kitchen is pretty much my dream kitchen. Two dishwashers, two ovens, two deep stone sinks, and the most beautiful Viking gas stove you've ever seen :)
I hope to design, plan and build my own kitchen someday, and a large gas stove is definitely one of my requirements ;) Okay, time for some yummy eats! I've got my dad hooked on green smoothies so we have one together almost every morning.
2 c. fresh spinach, 1 c. chopped kale,  1/2 c. strawberries, 1/2 c. chopped mango, 1/2 c. pineapple, 2 tbs. flax seed oil, 1 c. almond milk, 1 frozen banana. (Serves 2) This is tropical, sweet, delicious and super nutritious. I can't help it, I'm addicted to these things. My dad adds yogurt and protein powder to his but I enjoy mine as is.
I've also been noshing on lots of fresh fruit throughout the day, especially berries!! Even though berry season is at it's peak in the late spring back home in Florida, the berries hit their ripest mid summer here up north. Although the summer is coming to a close we are still getting our hands on lots of fresh berries including strawberries, blueberries and raspberries. Mmmm. To die for!
Lunch was leftover veggie soup and fresh bread. Alongside a salad topped with hummus and salsa (my new fav dressing combo!)
When dinner time came around, I was patiently waiting for my dad to get home from the store with groceries so I could make a big batch of veggie curry for the fam to enjoy, but he took his dear old time and I was starving! So I pulled out some misc. food items from the pantry and fridge and ended up with a fantastic lil snack that I'll surely repeat. I call these guys quick and easy eggplant mini pizzas. I definitely didn't invent the English Muffin pizza but I think I may have perfected a vegan version. ;) Mmmm… so full of flavor, texture and they made a perfect appetizer for us to share, and they popped out of the oven as soon as Dad got home so he was pretty pleased.
Mini Eggplant Pizzas
Prep Time: 10 min
Cook Time: 10 min
Keywords: bake appetizer entree sandwich bread side snack party food vegetarian vegan low-fat
Ingredients (6 mini pizzas)
3 sourdough english muffins
2 c. eggplant, chopped
1/2 leek, chopped (may substitute onion)
2 cloves garlic, minced
8 oz. organic marinara sauce
salt and pepper to taste
pinch red pepper flakes
1 tbs. olive oil
fresh basil as garnish
Instructions
Wash, prep and chop eggplant and leeks. Leave the skin on the eggplant, and make sure to wash the leeks thoroughly between the layers.
Toss veggies in olive oil, garlic, salt, pepper and red pepper flakes.
Place in a casserole pan and bake at 375 degrees for 20-25 minutes until eggplant is soft and mushy. Stir every 5 minutes or so.
Slice english muffins in half. Spoon a generous portion of marinara sauce onto each half. Place on lightly greased or sprayed baking sheet.
Remove veggies from the oven and mash with a fork. Spoon eggplant mixture on top of english muffins.
Garnish with fresh basil and enjoy!
These lil gems turned out so delicious and even my meat-eating brother loved 'em. When it came time for dinner I whipped up some brown rice with veggie curry stir fry. But I was too busy enjoying family time and a delicious glass of pinot grigio to take pictures, so here's a pic of last time I made
veggie curry stir fry.
After dinner the fam and I watched 127 hours starring James Franco, directed by Danny Boyle. Fantastic film. First time seeing it, and I was not disappointed. It's based on a true story and the cinematography and the acting are absolutely amazing.
For now, I'm still lounging around in my dad's cabin in the beautiful north woods of Minnesota. I had planned to return home from vacay on Monday but I decided to stick around awhile longer, and I'm glad I did! I have to be back for classes and work next week, but for now I'm still enjoying the sweet and glorious days of rest and relaxation.