Tonight ended up being a very relaxing and enjoyable night. After finishing up a big presentation in school I came home, flopped on the couch, warmed up some leftovers and indulged in one of my fav shows–Glee! Yes, I said it, I'm a Gleek. I've said it before and I'll say it again. The show reminds me of the musicals and performances I took part in when I was a kid, and what can I say, I love the singing, the choreography and the slightly-ridiculous-yet-still-humorous plots. Plus Lea Michele is a super cool vegan chic so who can forget that? ;)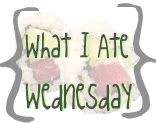 For breakfast I had some yummy sliced nanners with homemade raw cashew butter and raisins.
The leftovers I was noshing on were delicious and super nutritious. Yesterday I felt like I needed a soothing meal so I reverted to an all-time favorite–miso soup. I love miso, and the healing powers this fermented soy bean paste boasts are an awesome bonus. I've blogged about miso soup before, so if you want some step-by-step photos and instructions for an awesome recipe, check out this post.
For this batch of miso soup I used celery, leeks, onion, wakame seaweed, brown rice, edamame and chic peas. I used equal parts of white miso and barely miso. It turned out absolutely delish! I also included a generous portion of freshly grated ginger. 
What's the big deal with ginger anyway? I blogged earlier this week about how I've been taking
hot ginger baths at night.
I read about ginger baths in a holistic health book, some time ago. They have really been helping me to sleep better because they calm my nerves, help me to relax, and in the process I work up a good and healthy sweat–eliminating excess minerals and toxins. But why is ginger so cleansing and purifying?
Ginger has been used for many centuries as a natural health remedy. Ginger's healing properties come from the oils in the root, which are also responsible for the pungent odor and taste. The oil causes more digestive enzymes to be produced, which can aid in the digestion process as well as reduce nausea, cramps or inflammation. Ginger can also reduce fever, alleviate arthritis, as well as lower blood pressure and cholesterol levels. It is also beneficial for detoxifying our systems.
Whenever I pick up a ginger root in the grocery store, I almost always have someone stop and ask me, What on earth do you do with that stuff anyways? I'm usually highly amused and will gladly talk to anybody who asks me a food question :) I do LOTS of stuff! I put ginger in soups, desserts, baked goods, veggie stir-fries, casseroles, smoothies and my juicer. I take hot baths with ginger, I brew tea with ginger and sometimes I stick a big knob of ginger under my kitty's nose while she is napping to see what kind of reaction I get. hehe jk… or maybe not ;)
The next question I get asked is — But how do you do it? Well it's really quite easy. I freeze it. Ginger stays wonderfully fresh in the freezer and grates up beautifully on a micro-planer if it's frozen compared to being fresh. Sometimes I'll break off a small nub and keep it in the fridge for juicing and smoothies. I wouldn't recommend putting frozen ginger into a juicer, but hey, try it if you like.
Remove it from the freezer when you are ready to use it and peel off the skin from a portion of the root.
Next, grab your micro-planer… if you don't have one of these gadgets, you really must get one. They are about $12-$14 at Bed, Bath & Beyond. Plus, I get coupons in the mail all the time for that store for $5.00 off any item. So take your Bed, Bath & Beyond coupon and march on over and pick yourself up a micro-planer for less than $10. Do it. Please? You won't regret it, promise :)
Lay your micro-planer over a shallow bowl and get to work!
Voila! A nice beautiful pile of freshly grated ginger.
And if you don't use all of the pulp right away, simply store it in a plastic baggie or small dish with a lid, and pop it in the freezer. That's all there is to it. Easy breezy :) Sometimes I grate an entire root up at a time and save the pulp for ginger baths and cooking throughout the week. 
Just a note, fresh ginger is not quite as potent as dried ginger powder. Many people will tell you that fresh ginger and dried ginger should not be interchanged in recipes because of the difference in potency and slight flavor. But as a general rule of thumb, if making a substitution, the ratio for fresh ginger : powdered ginger is about 6 :1  But even this ratio can be somewhat debatable. Either way, next time you are at the market grab a ginger root and go home and experiment; the flavor is remarkable and the healing benefits are just an added bonus. 
Okay, your turn! What's your favorite way to use ginger? Feel free to link up any recipes that interest you, because I'd love to know :)
Happy Wednesday everyone, 
~*~ Peace, Love & Veggies