Last week I was having the suckiest most miserable week EVER. Do you ever have weeks like that? I was feeling piles of financial stress regarding school, taxes, student loans, etc., as well as personal stress with work, my relationship and so much more. I had to put my Colorado trip on hold and focus on some issues that I needed to deal with at home. Which was a major bummer for me. :( I spent a couple of nights crying and wondering why on earth everything was falling apart all at once?! I hate feeling hopeless.
I told myself to have PATIENCE. I reminded myself of that little sticky note I put on my mirror during finals week–FOCUS. And I prayed about everything. Then this week I noticed the puzzle pieces started coming back together. Slowly, and gradually… one piece at a time. My patience paid off. I settled some issues that needed to be taken care of and I got some really great news today about my taxes, (I thought I was going to owe LOTS, and am getting some BACK instead) and right now I feel like I am walking on a cloud because that big heavy stress-weight has been sort of lifted. WHEW! Thank you God, I needed that.
Patience is a tricky thing, but it's usually worth the wait. Plus I have had all sorts of other fun stuff happen in the past few days in blog land. I won TWO blog giveaways this week. TWO. Craziness. One of them is from cool blogger chic Alaina Rose @ Sweetness of Life, who is sending me some baking goodies! Yay! I'm so excited my smile is starting to hurt my face. Ha! The other giveaway I snagged was from one of my favorite fitness motivators, Cassie @ Back to Her Roots, who is hooking me up with a sweet deal, a Camelbak Groove portable water filtration system. Score! Then, fellow blogger Michele @ The Vegetarian Who Hates Tofu wrote a fabulous review on one of my recipes on her site. I was so tickled and moved by her sweet words. All of these ladies have wonderful blogs that I follow pretty regularly, so go check them out and send them some love! Thanks again ladies for making my week so much better. :)
Time for some WIAW eats! Yummmm!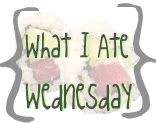 Some brown rice cakes with natural peanut butter and raisins. I'm a sucker for raisins. I put them on EVERYTHING. Oatmeal, cereal, salads, popcorn, stir fry– you name it, I raisin it. ;)
Some delicious cold bean salad with greens. I had a reader ask me for this recipe yesterday so I added it to my recipe gallery here. It's a sinch to make and it's full of fiber, protein and nutrients. It's also GREAT for leftovers. You can add some to rice and make stuffed peppers, or put in a tortilla wrap for veggie tacos, add to soups, or even throw some in a veggie stir fry for extra protein. I usually have a batch of this salad in my fridge at all times, because I love it that much :)
For dinner, a delicious sesame teriyaki stir fry with broccoli, eggplant, peppers, carrots, leeks and sesame crusted tofu. I served it over brown rice noodles. Can you believe it, I found brown rice noodles! Brown rice is sooooo much more nutritious than white rice. I hardly ever eat white rice anymore, unless out at a restaurant or in the form of rice wrappers (haven't found THOSE in brown rice yet. The lady at the oriental market laughed at me when I asked her. ha!)
Here's to a wonderful Wednesday! ~Peace, Love & Veggies xo