Hello lovlies! I hope you all had a fabulous labor day weekend! Even though I spent most of my labor day weekend laboring… grrr… I did get to squeeze in a little R&R and yummy eats! I had a huge sweet tooth this weekend, so I scooted my butt into the kitchen and did some baking. I don't exactly consider myself an expert baker, but I love it nonetheless. However, sometimes things don't turn out the way I plan…
I tried making these cherry almond cookies from Vegan Cookies Invade Your  Cookie Jar and I guess I made one too many substitutions. Ha! They turned out delicious tasting, but horrible looking! I tried making them a little lower fat by subbing apple sauce for half the oil and I used whole wheat pastry flour instead of all-purpose flour. Not only did they majorly spread (notice my giant snowman cookie!) but they also thinned out a lot more than I anticipated. To give you an idea, this is what they are supposed to look like.
I borrowed this pic from CC Recipe blog, and it looks like she followed the instructions exactly, because her pictures are perfect. What happened to mine?! Wahhh! It just goes to show, substitutions don't always fly!
At least I'm wearing my cute new watermelon apron ;) Even if I am holding ugly cookies! Hehe.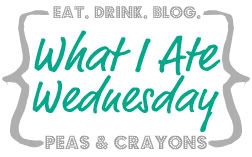 For breakfast I had a really yummy green smoothie. This one was a new combo for me. I usually pile tons of goodies into my green monster smoothies but I kept it pretty basic this morning. I used about 3 large handfuls of fresh spinach, one mango, 1 c. almond milk and one frozen banana. The consistency was super smooth and the flavor delish! Lots of healthy nutrients in this sucker.
Obviously it was good til the last drop!
And the one thing that makes a delicious green smoothie even better?
A little kitty company :)
Lunch was a big pile of leftovers.
Steamed broccoli, barley seasoned with tamari and ginger, veggie tempeh sauteed with leeks, ginger and garlic, and a field green salad.  Believe it or not, since becoming a vegetarian a couple years ago, I still haven't experimented much with tempeh. But ever since I picked up a Peas and Thank You cookbook, I've been trying some new recipes and the stuff is really growing on me. The flavor is mild and the texture somewhere between ground turkey and lentil beans. Maybe that is a strange comparison… hmm. You should try it! There, how about that?
Tonight I had a dinner party with my mama dearest and her fiance Rick. We started off with an appetizer of homemade bruschetta served up with a delicious organic India Pale Ale I picked up from whole foods. I really love my IPAs. Mmmm.
Dinner was sesame crusted eggplant and braised leeks, served with brown rice and marinara, paired with a side salad. This is one of my favorite meals! It's completely vegan and gluten free, and the flavor combinations are fabulous! My mom and I sort of invented it one night while playing around with garbanzo bean flour in the kitchen. You can find the recipe here.
And since my cookies sort of flopped (well not entirely because we all still nibbled on the crumbles!) I served up some chocolate coconut chia pudding that I whipped up the day before. This stuff is seriously amazing. I think I may even like it more than my banana raisin chia pudding. It's has a chocolatey flavor, with just a touch of sweet by adding some agave syrup. I made a parfait with frozen raspberries and sprinkled in some unsweetened coconut. My favorite kinds of desserts are those with more of a subtle sweetness and this one hits the spot. But you can make it sweeter if that's your fancy!
I'm going to leave you with a teaser and post this recipe tomorrow! Happy WIAW lovelies!
Have you ever had a major disaster in the kitchen, or ever tried a recipe and had a major flop?