This is sort of how my day started…
First accounting course of the semester. Walked into class about 10 minutes late. Oyyy. (traffic was bad). Managed to squeeze down the row into one of the last available seats. Pulled out my textbook and notebook only to realize I bought the wrong addition. Arrrg. Reached into my bag and grabbed the ice cold Kombucha I picked up at WF earlier that morning. Kombucha explodes. All over my desk. In the middle of the lecture. It wasn't pretty. :/
Obviously, I make great first impressions.
Maybe I lack social graces but I definitely don't lack good eats! Welcome to What I Ate Wednesday, hosted by Jenn over @ Peas and Crayons.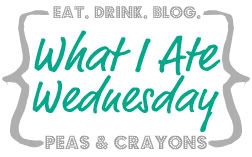 I started off with a Hugh Jass (
Mama Pea term
) green smoothie this morning. But you all are prob sick of seeing pictures of my green smoothies so instead I'll post a picture of something else.
Umm, what's with the flower? Well lately I've been adding dandelion greens to my green smoothies. Why, you ask? Because they are one of the most
nutrient-dense greens out there
! Stocked full of Vitamin A, Vitamin K, Vitamin C, Potassium, Iron, Calcium, Fiber, Magnesium, Phosphorus, B Vitamins, and even protein. The USDA sites dandelion as one of the top 4 green vegetables in overall nutritional value. Yowzas! My local farmer's market has some gorgeous organic dandelion greens right now so I've been bringing them home and tossing them in my smoothies.
Warning: these greens are on the bitter side. I suggest balancing them out with a little extra fruit like berries or fresh peaches, frozen banana slices and a bit of almond milk. I also add spinach, flax oil and chia seeds. Delish! For lunch I ate a huge bowl of amazingness. Literally. This is my lil bowl 'o vegan taco salad! Umm… minus the taco I guess.
Sliced avocado, tomatoes, romaine, brown rice, black beans and spicy mexican lentils (recipe to follow sometime soon I promise!) I topped everything with some plain So Delicious Cultured Coconut Milk (basically it's like vegan coconut yogurt). I know that sounds strange but it turned out really yummy. I didn't have any vegan sour cream, but I wanted to "cool down" my plate of spiciness and this did the trick! It was especially good mixed with tomatoes and avocados. I snacked on some fruit and a Larabar, along with a half-exploded Kombucha. But you know that story already.
Dinner was simple. Leftover grilled veggies that I made a few days ago with some rice and more black beans. I'm having a black bean summer, I swear. I've been putting them in everything lately, even salsa!! Mmmm. :)
Especially this new salsa I picked up from the farmer's market.
I really like the all natural ingredients. Although it isn't exactly local. Tisk, tisk. But this Georgia salsa is pretty darn good if you ask me. The fact that it completely disappeared in 3 days says it all. And I took care of that all by myself, don't worry ;)
I have a huge stash of fresh farmer's market peaches right now, so for dessert I whipped up some coconut peach banana soft serve. Amazing combination, you have to try it!
I let my bananas thaw for a bit too long, so I ended up with more of a smoothy-like consistency. But the flavors were still fabulous. I used about 1 c. chopped frozen banana, 1/2 c. chopped peaches and 1 tbs. shredded unsweetened coconut. Combine all in a food processor and blend until smooth. Enjoy!
I was part of an interesting discussion on Crazy Sexy Life earlier this week and I thought it was worth sharing.
How do you all stay sexy when there is a lot of disruption going on in your life but you are feeling lonely or distant from the rest of the world? (On Crazy Sexy Life site we use the word sexy to describe self-confidence, optimism, beauty, clarity, focus, determination, and drive… among other things. It's not a sexual word, it's a self-motivator. And it's sassy too ;)
Disruption comes at us from all angles, and often when we least expect it. The key to staying positive and staying sexy is attitude, and it also takes a bit of adapting. When I'm in a funk about something I tend to really get down on myself about everything, and I hate that. One thing I try to do is stick with things that I really enjoy, and focus on the good things and positive energy going on around me. Attitude is contagious. It's easy to catch a bad attitude, but it's also easy to pass on a good one. Be a positive light to the people and things around you and you will reap the rewards.
A few little things that can make you feel sexy…
Read a fabulous book. One that will really make you think, laugh and even cry.
Put on some makeup and do your hair differently. (Since I work from home most of the time I am notorious for lounging around in yoga pants with "bed hair". Sometimes a little effort is all it takes to make me feel sexy again.
Call up a friend or family member for some words of encouragement. This always helps me, especially when I talk to my mom, aunt, grandmother, or a good girl friend. There is something about an encouraging female voice on the other end of the line, that I know and love, that gives me positivity through and through.
Treat yourself to an "at home" spa, including a bubble bath, face mask, body scrub, manicure, and some sexy dry brushing. Your skin will thank you!
Do something for YOU. Start a blog (duh!), learn how to sew, crochet, knit, scrapbook, paint or bake. Do something that will make you smile and feel accomplished.
Pay it forward. Do something to make somebody else's day. It's the little things that count. Like the girl behind me at the Banana Republic counter who had two coupons when I left mine in the car. Guess who gave me her second coupon? =)