Sometimes Living Social makes me so incredibly happy. For example when they feature one of my favorite stores or vendors, like yesterday's feature–Whole Foods! But sometimes they really piss me off when it's a measly amount like $10 for $20 worth of goods. Arg. What's the deal!? But my $10 savings did buy me a glorious jar of organic pure maple syrup so I guess that's a score ;) But who can go into WF and come out with only a jar of maple syrup? Not this girl apparently.
I also bought splurged on this big bounty: candied ginger, hulled barley (a little tougher than pearled barely but more nutrients), amaranth, 2 tubs of hummus, 2 – 22 oz. organic IPAs, 2 tubs of So Delicious cultured coconut milk (I'm obsessed with adding this to my green smoothies in the morning), organic tamari, almond milk, 2 bags of vegan chocolate chips, 2 cans of light coconut milk (for curry dishes), 1 pack of garden veggie tempeh, & 2 packs of daiya shredded cheese (going to make Mama Pea's vegan mac & cheese this weekend!) Obviously I like buying things in pairs. Hmmm… Oh and some Vitamin B-12 because I'm almost out! I take B-12, Vitamin D and probiotics daily, but for all of my other vitamins I rely on my daily eats!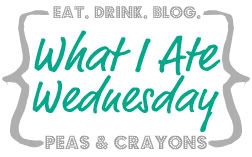 Now to share some of them with you! Breakfast was a green smoothie.
This green monster had 2 c. fresh spinach, 1 c. baby romaine leaf lettuce, 1/2 fresh peach, 1/2 frozen banana, 1/2 c. So Delicious cultured coconut milk yogurt, 1 tbs. flax seed oil, 1 c. almond milk & 1 scoop Green Vibrance powdered greens. So yummy and so filling.
During class I snacked on a fresh black plum and lemon Larabar (one of my fav. flavors!)
While I was at WF I scooped up some goodies from the salad bar and hot bar for lunch. I brought it home and put everything over a big plate of fresh spinach.
Kale salad, plantains, dolmades (stuffed grape leaves! mmm!), lentil tabouli, quinoa salad, freshly grated beats and a small scoop of vegan tofu marsala that I grabbed from that hot bar. Served with an organic gala apple that I scoured from the Farmer's Market yesterday. Everything was so delicious and I pretty much stuffed my face. I had a little company next to me for lunch, of the feline variety.
Dinner was grilled veggies with marinara (I used a jarred organic instead of taking the time to make my own–busy girl these days!) & served it all over whole wheat spaghetti.
Oh and after I took this picture I doused everything with a big spoonful of nutritional yeast (which is sooo good on top of marinara dishes!)
This rest of this week is going to be a little crazy for me. Within the next 7 days I have 3 exams! Ugh! I think my professors all gathered together and said let's schedule our tests within the same week to really make these guys suffer! Ha! Okay it's highly unlikely they did that but I'm still a little peeved it's all bombarding me at once. But school is going really well and work is keeping me super buys when my nose isn't in the books. Also my knee felt good enough this week to squeeze in some yoga and bike rides! Finally!
Happy #WIAW everyone!